Weltreise. Travelling the World.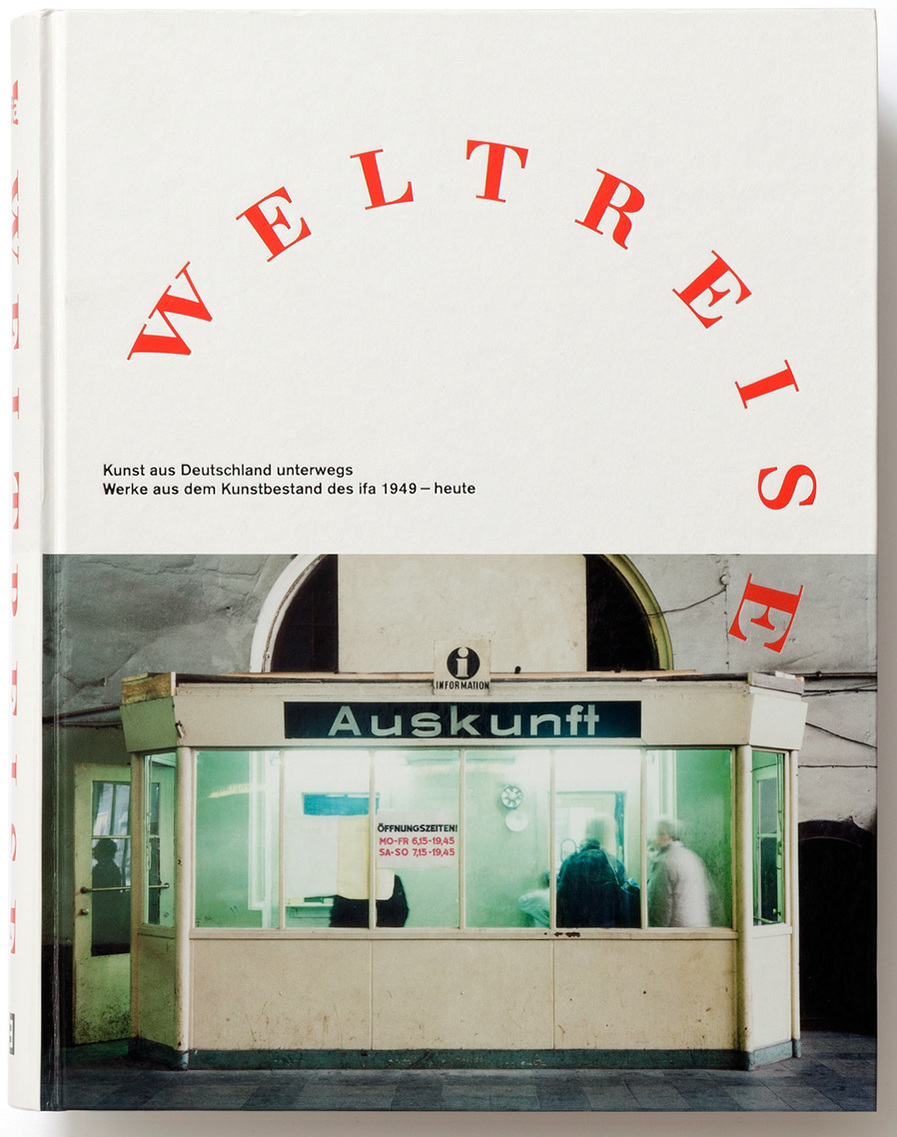 Weltreise: Kunst aus Deutschland unterwegs. Travelling the World: Art from Germany. Drawing on the impressive collection of contemporary art from the Institut für Auslandsbeziehungen (ifa), curators Matthias Flügge and Matthias Winzen have compiled an overview that traces artistic key developments in Germany since 1949, and present 400 works by over 100 artists. www.ifa.de

Art Palace, Minsk, Belarus
11 March - 12 April, 2020
New Exhibition Hall, European Capital of Culture, Plovdiv, Bulgaria
11 October 2019 - 8 December 2019
Museum of Contemporary Art, Belgrade, Serbia
25 January 2019 - 24 March 2019
Paço Imperial, Rio de Janeiro, Brazil
16 September 2017 - 19 November 2017
Instituto Cultural Cabañas, Guadalajara, Mexico
12 August 2016 - 12 Februar 2017
Museum of Art Ein Harod, Ein Harod, Israel
10 Oct 2015 – 13 Feb 2016
Busan Museum of Art, Busan, South Korea
30 April 2015 – 12 July 2015
Krasnoyarsk Museum Center, Krasnoyarsk, Russia
16 October 2014 – 18 January 2015
Moscow Museum of Modern Art, Moscow, Russia
23 April 2014 – 7 September 2014
ZKM, Museum für Neue Kunst, Karlsruhe, Germany
26 October 2013 – 2 March 2014
Curators of the Exhibtion: Matthias Flügge, Matthias Winzen
Artists: Gerhard Altenbourg, Dieter Appelt, Willi Baumeister, Thomas Bayrle, Marc Brandenburg, Bernd und Hilla Becher, Sibylle Bergemann, Joseph Beuys, Anna und Bernhard Blume, Christian Borchert, Manfred Butzmann, Carlfriedrich Claus, Chargesheimer, Hanne Darboven, Achim Duchow, Hartwig Ebersbach, Hans-Peter Feldmann, Arno Fischer, Thomas Florschuetz, Günther Förg, Katharina Fritsch, Günter Fruhtrunk, Else (Twin) Gabriel, Rupprecht Geiger, André Gelpke, Isa Genzken, Jochen Gerz, Walter Giers, Hermann Glöckner, Karl Otto Götz, Gotthard Graubner, HAP Grieshaber, Asta Gröting, Andreas Gursky, Georg Herold, Katharina Hinsberg, Hannah Höch, Matthias Hoch, Candida Höfer, Martin Honert, Rebecca Horn, Magdalena Jetelová, Dieter Kiessling, Jürgen Klauke, Barbara Klemm, Fritz Klemm, Imi Knoebel, Herlinde Koelbl, Wilmar Koenig, Arthur Køpcke, Norbert Kricke, Mark Lammert, Walter Libuda, Markus Lüpertz, Adolf Luther, Heinz Mack, Ewald Mataré, Wolfgang Mattheuer, Olaf Metzel, Christiane Möbus, Michael Morgner, Reinhard Mucha, Marcel Odenbach, Nam June Paik, Helga Paris, A. R. Penck, Wolfgang Petrick, Otto Piene, Peter Piller, Hermann Pitz, Sigmar Polke, Robert Rehfeldt, Gerhard Richter, Klaus Rinke, Julian Röder, Ulrike Rosenbach, Dieter Roth, Thomas Ruff, Reiner Ruthenbeck, Karin Sander, Jörg Sasse, Michael Schmidt, Bernard Schultze, Gundula Schulze Eldowy, Emil Schumacher, Thomas Schütte, Wiebke Siem, Katharina Sieverding, Klaus Staeck, Otto Steinert, Strawalde, Thomas Struth, Frank Thiel, Fred Thieler, Wolfgang Tillmans, Rosemarie Trockel, Günther Uecker, Max Uhlig, Hans Uhlmann, Jorinde Voigt, Wolf Vostell, Franz Erhard Walther, Corinne Wasmuht, Trak Wendisch, Fritz Winter, Wols, Ulrich Wüst.